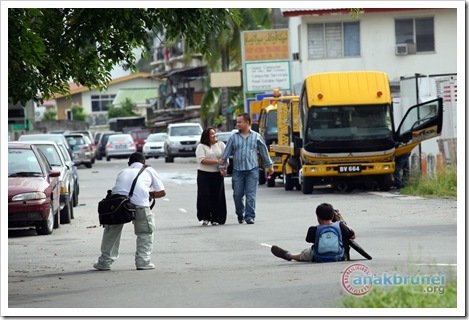 Ini pulak dari no.1 blogger in Brunei jugak. Anak Brunei!
Terima kasih banyak2 di atas sambutan luarbiasa ala ala selebriti pulak dari jurugambar2 dan juga orang2 yang meminati hasil fotografi saya samaada dari forum2 fotografi mahupun dari keluarga2 serta rakan2 kepada mereka serta pihak penganjuran. Paling tak boleh lupa di Brunei ialah pasal makan. Sikit2 makan, belum sempat lapar dah makan lagi. Saya rasa saya tak boleh duduk Brunei pasal nanti saya akan mengembang sehingga sukar untuk saya mengambil angle2 menarik seperti low angle nanti hehehe.
Thanks to all the press yg dtg buat liputan tak terkecuali blogger2 hebat Brunei seperti Ranoadidas & Anakbrunei.org. Wakil media arus perdana di Brunei tak sempat sya nak berkenalan, belum sempat nak berkenalan diorang dah balik. Tau2 jer article dah keluar newspaper yang saya dapat pagi2 di hotel saya. Menarik jugak. Yg dapat kena cuma "Jon Tampoi", wartawan Borneo Bulletin yang agak hebat dan ganas jugak lah. Yg tak tahan, sejak kebelakangan ini…sering pulak jolokan "Jurugambar Selebriti" tu dijadikan 1 tittle untuk menghuraikan tentang saya. Mula2 janggal jugak, tapi dah beberapa kali rasanya…ok lah tu heheheh. Tapi saya masihbertanggapan gelaran itu adalah kerana saya ambil gambar selebriti. Tapi ada pulak takrifan sebahagian besar mengatakan…"Awak tu lah selebriti…photographer yang jadi selebriti"…part ni, mmg I susah nak terima sikit hahahah. Pasal saya….saya ni cuma jurugambar kenduri kahwin jer…
Bagaimanapun, berikut adalah list2 thread dalam blog2 yang diupdate pasal kedatangan saya di Brunei. Ada beberapa lagi blog2 yang mereka belum update atau dah update cuma saya tak nampak. Nanti nampakkan lah kat saya semua ek….nanti saya update list di bawah ni.
I enjoiced! and I hope all the participants in the workshop semua pun puas hati. Thanks for all especially HRD Services. A renowned company dealing with training and consultancy in Brunei Darussalam. See u guys later…
SAIFUL NANG
CEO / Principal Photographer
Colours of Asia Sdn Bhd
CandidSyndrome International
+60380766878 (HQ)
+6738880639 (Brunei)
+6013 3977715 (Mobile)
saifulnang@candidsyndrome.com
The ONLY OFFICIAL Private Photographer Team for The Royal Wedding of Yang Teramat Mulia Paduka Seri Pengiran Anak Puteri Hajah Majeedah Nuurul Bulqiah binti Kebawah Duli Yang Maha Mulia Paduka Seri Baginda Sultan Haji Hassanal Bolkiah Mu'izzaddin Waddaulah, D.K.M.B., P.H.B.S dengan Yang Teramat Mulia Pengiran Anak Khairul Khalil bin Pengiran Syed Haji Jaafari
The ONLY Official Photographer Team for "Merdeka Raksasa" in conjunction of the celebration of 50th Anniversary of Malaysia Independance. Assigned by The Malaysia Government
.
Please write something in the comment and say hi to me. So I don't feel like talking alone hehehehe. Don't worry, eventhough ur comments will be moderated…it's only a procedure to throw away spammer and some mosquitos